Gekisen
Kakugane Serial Number(s)
XII (12)
Creator
Genji Ikusabe
Form
Cross Spear
Main Color(s)
Lacquered Vermillion
Buso Renkin of the Cross Spear Gekisen (激戦?, lit."Intense War") the Buso Renkin of Genji Ikusabe.
Appearance
Edit
Gekisen takes the form of a cross spear possibly of shinto inspiration with a silver head and a red handle.
Powers & Abilities
Edit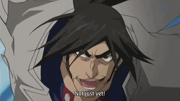 Techniques
Edit